Buy Round Eyeglasses Online
In the Beginning, There Were Round Glasses
Before 1935 when the traditional German company ZEISS invented the world's first adaptable spectacle frame with a non-slip fit, i.e. the modern spectacle frame, you could only find round spectacle lenses. The round glasses style is therefore not only classic or retro, but is the classic among the classics. In the 1920s, round metal glasses were part of the intellectual look, worn by the well-read elite as reading glasses to help impaired vision. But this medical aid has long since advanced from a necessary evil to the most popular fashion accessory. Nowadays, round "nerd" glasses are worn by hipsters and fashionistas all around the world.
If you have a full-beard, vintage-style glasses made of acetate or metal can suit you really well. Perhaps in general, you take style inspiration from retro or vintage looks. For example, straight jeans and a leather bag can be combined really well with a pair of gold-rimmed eyeglasses. A classic in this style is, of course, the Ray-Ban Round Metal frame. Today, the hipster or "retro" look has become so popular it's practically mainstream, so with this style frame it's a win-win, as you can be on-trend and hipster at the same time. If you want to go one step more "edgy", opt for a really round frame, where the lenses are perfect circles, whether purposefully small or oversized. John Lennon would be proud! Rimless or half-rim frames are also on trend at the moment, if you are looking for something a little bit more unique.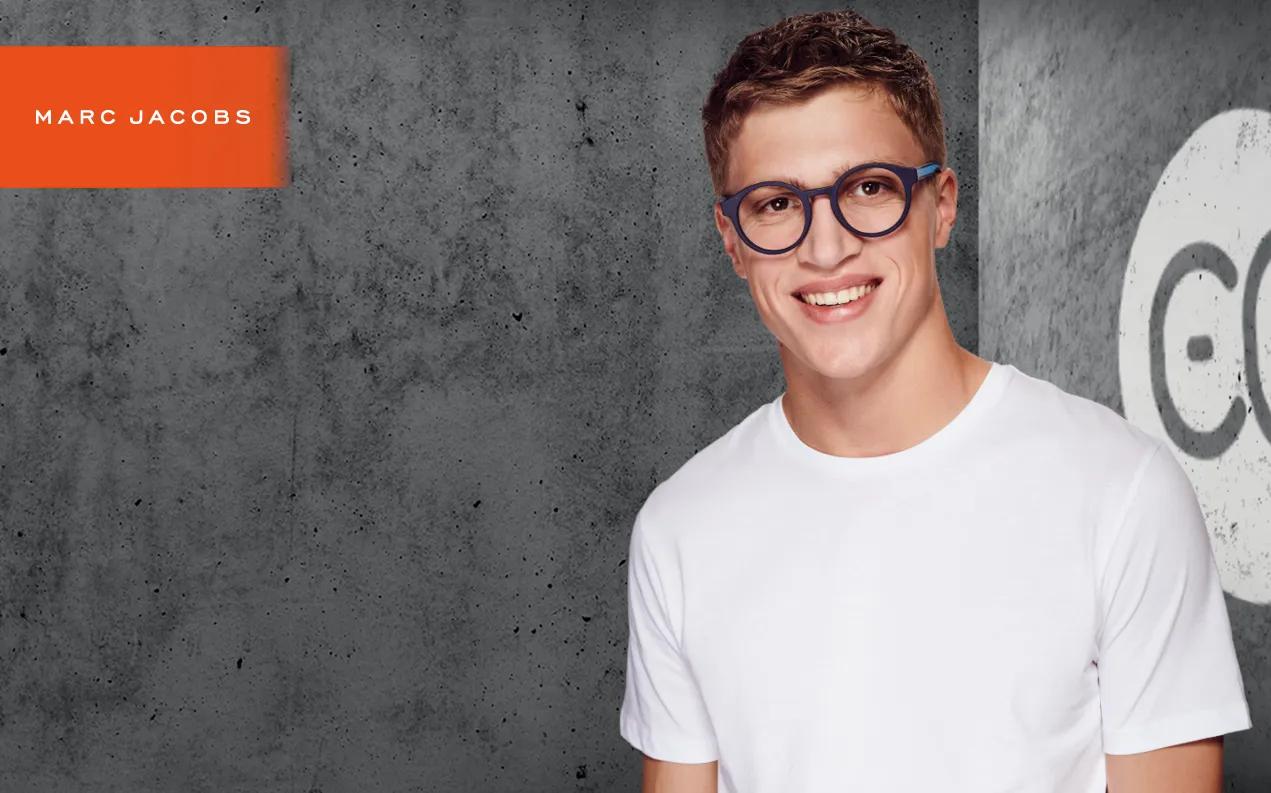 Do round glasses suit me?
If you are asking yourself what frame style suits your shape of face, check out our blog post on this topic. In general, round glasses tend to suit people with slightly more angular faces because it helps to balance out and soften their appearance as a whole. On the other hand, round frames can make circle faces look even fuller, so if you have a round face, go for a more angular pair of glasses or even a cat-eye style frame. If you have an oval face shape, don't worry, because any glasses frame suits you!
Round Glasses Styles
If you don't have an overly round face, you can consider a wide range of round frames styles. Round sunglasses](round-Sunglasses.html) and glasses come in a wide variety of colors and shapes. With sunglasses, there is the added challenge of choosing a suitable lens color to suit your skin or hair tone too. It's much easier with prescription glasses because the lenses are colorless. With rimless glasses you can even avoid having to choose a frame color. Or you can go for a trendy transparent frame, such as the round Calvin Klein glasses, which are a subtle touch of elegance on your face.
Also popular are the round glasses by Tom Ford. When talking about the classic of all classics, most fashion-lovers probably think of the legendary men's glasses Tom Ford FT5294 in black. As the king of understatement, it makes all other classic models its subjects. This brand is also popular with the ladies. For example, these Tom Ford Unisex Glasses are equally popular with both sexes. This is not least due to the horizontal metal "T" letter, which symbolizes the brand's logo and contrasts beautifully with the black front.
Our Services
If you are wondering where to buy round glasses online, then you've come to the right place. We offer round frames with prescription lenses, non-prescription lenses, blue light filter lenses and even self-tinting lenses, as well as many other customizations. To help you choose your perfect pair of specs online, our Head Optician has put together some useful advice videos on topics such as what size frame do I need or adjusting glasses frames and for fashion inspiration and tips, check out our blog. We also offer a 3D Virtual Try-On for most models – just turn on your webcam, click on the icon beneath the image and an image of the glasses will be projected onto your face!
If you have any questions, our customer service will be happy to help you via email, phone or social media. We offer FREE delivery and returns with the 30-day return policy and money-back guarantee as well as diverse payment methods to make shopping with us even easier. Only frames with prescription lenses or custom lenses are excluded from returns, unless they are faulty.
About Us
As eyewear specialists for fashion-conscious customers, we offer even the highest quality frames at absolute bargain prices with our motto "SEE AND BE SEEN". Even reduced-price round glasses and products from our in-house Glasses Sale are available from us at a unique price. So what are you waiting for? Visit us in the extraordinary world of eyewear at Edel-Optics and get your classic round spectacles.