Buy Fendi Prescription Glasses Online
Luxury from Italian Alta Moda
The story of Fendi begins in 1918 with the opening of the leather goods shop in Rome. After the couple Adele Casagrande and Edoardo Fendi said "I do" to each other, they also said yes to independence and registered the Fendi brand after the wedding. This laid the foundation for the success story that continues to this day. Just a few years after the foundation stone was laid, the Fendi family already owned several shops.
After the Second World War, the five Fendi daughters of the founding couple also joined the family business and each inherited twenty percent of the company after their father's death. The business divisions were also distributed fairly among the daughters.
In the 1960s, the Fendi family was joined by none other than the fashion designer Karl Lagerfeld. The "sixth child of the Fendis" (as he was jokingly called) worked as the designer of the Fendi women's collection to further expand the traditional Italian company. He also created the world-famous Fendi logo, which visually represents the fashion brand (with its two F letters arranged horizontally next to each other) and adorns many items in the product range, thus increasing the brand's recognition value internationally.
To expand the business, the sisters decided to launch a prêt-á-porter line for fur fashion alongside Lagerfeld's high-end fur collections to increase the target group of women. Further expansion was achieved through a men's collection as well as accessories and perfumes.
Another of the company's golden decisions was the introduction of the so-called Pequin pattern. This is characterized by an arrangement of alternating golden-brown and dark-brown longitudinal stripes as seen, for example, on the lenses of Fendi sunglasses. Particularly popular are the Vintage Fendi Sunglasses, which bear the FF logo as a distinguishing mark.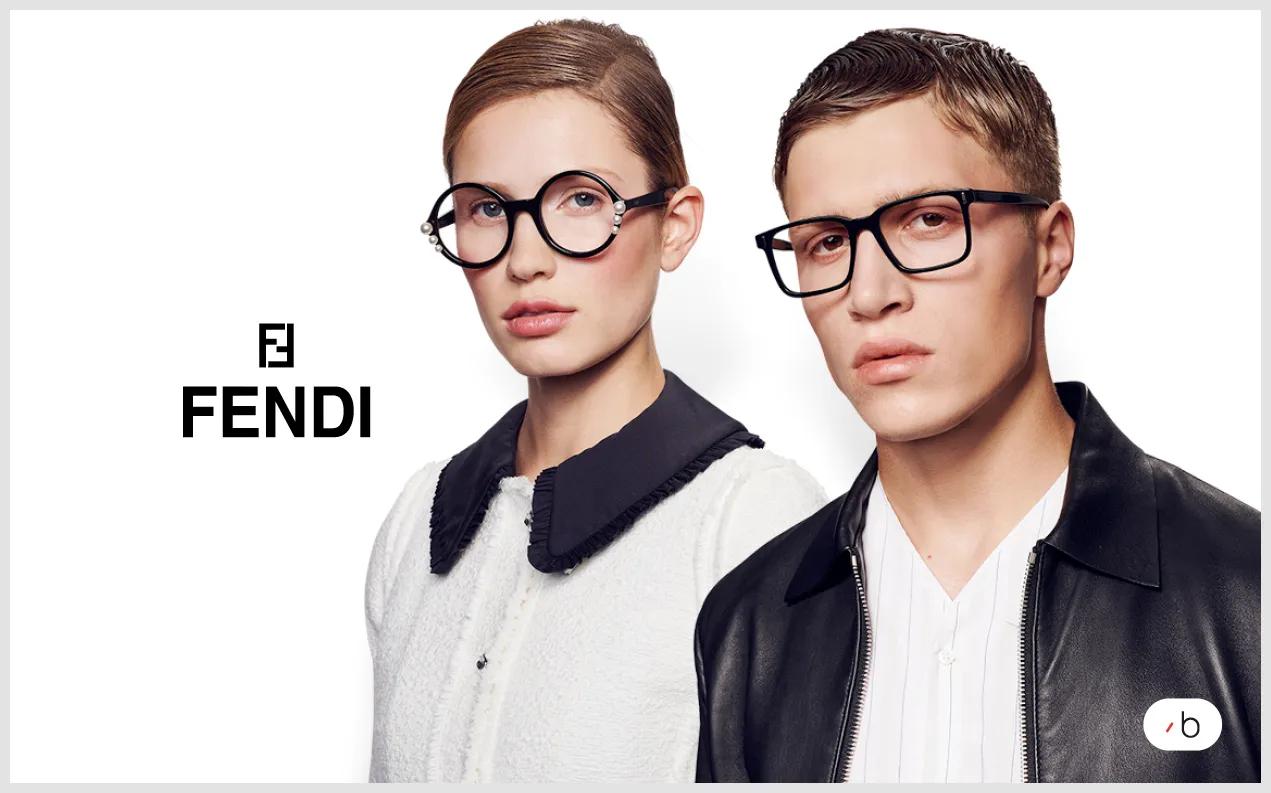 At the end of the 1980s, the Fendi label suffered a downturn. The previously very popular Fendi furs fell into disrepute after society's attitude towards animal suffering changed. Empathy for animals increased and the company's sales decreased accordingly. Above all, the media reach of well-organized animal rights activists did not benefit Fendi. Supermodel and Fendi testimonial Naomi Campbell lost her position as spokesperson for the animal rights organization PETA after she was spotted wearing real fur at a Fendi fashion show.
But the criticism of the furs was not to be the only struggle Fendi had to deal with. The company's sales also plummeted due to many imitations. Fendi fakes became more and more present, which led to a drop in demand for the Fendi original. Fendi glasses also suffered a loss in value when Fendi fake glasses appeared on the market.
In recent years, the Italian fashion house has been able to recover, thanks in no small part to Karl Lagerfeld. Unfortunately, the fashion designer passed away in February 2019. This left Fendi's granddaughter Maria Silvia Venturini Fendi - inventor of the legendary Fendi Baguette Bag - in charge. Despite the loss of their creative head, Fendi is currently enjoying a resurgence, thanks in part to popular collaborations. One of these is with the street label Fila, which was most popular in the 90s and is therefore probably familiar to every Millenial. With classic designs far from street wear, the simplicity and elegance of the brand is preserved, even though they venture onto new paths in terms of design from time to time.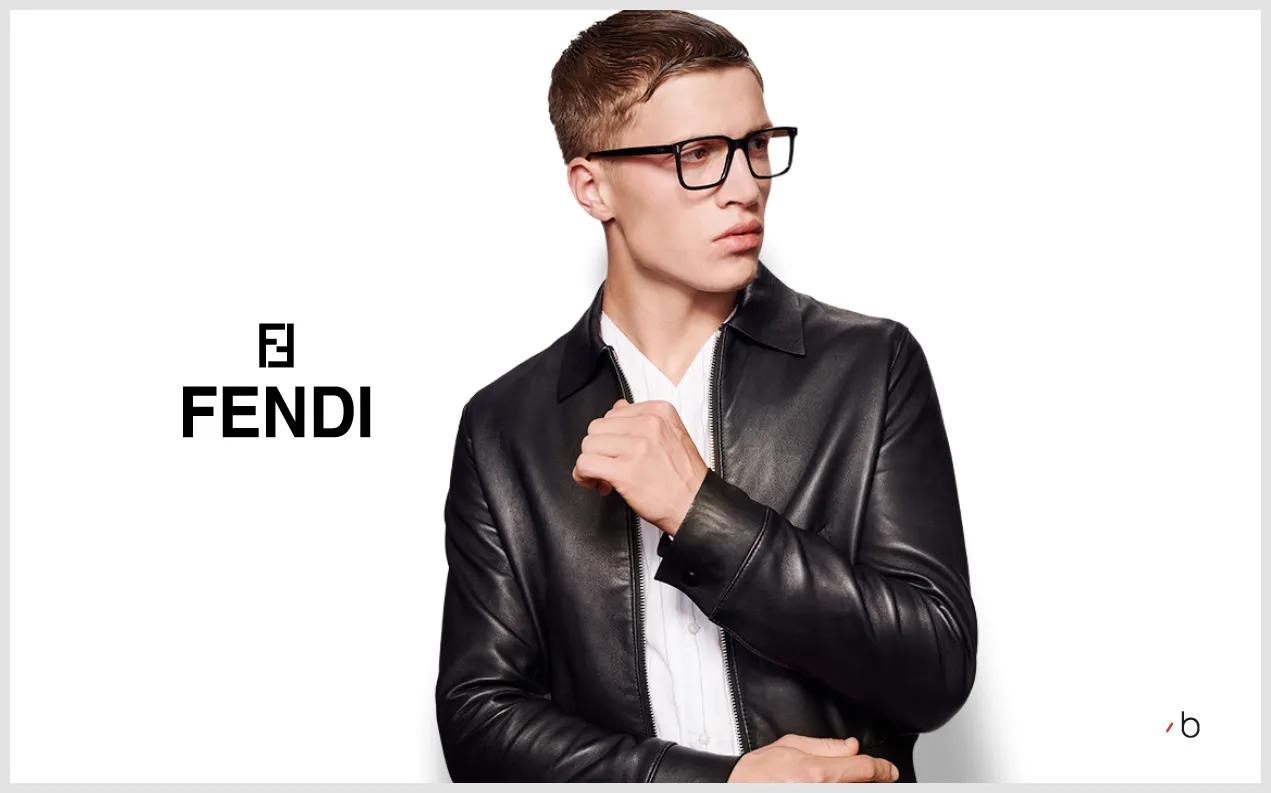 Eyewear by Fendi - The Double F Stands for Fabulous Fashion
Along with the fresh coat of paint that the streetwear brand Fila has given Fendi, new styles have also been added to Fendi's own range. The bold Fendi shirts, trousers and other pieces are cool, but what accessory is cooler than a pair of trendy glasses?
Among the most popular styles are the round Fendi glasses with pearls, which is one of the most unique glasses designs on the market, comparable only to Gucci glasses or Versace glasses.
If you're looking for a more angular frame, use our filter on the left to narrow down your search to rectangle or square Fendi glasses. The most beautiful square glasses are those adorned with the Fendi glasses logo, which for those unfamiliar with Fendi might at first look more like a checkmark than the letter F.
Another eye-catching glasses style, particularly popular among Fendi's glasses for women, are the Fendi Cat Eye glasses. With striking temples in silver or gold that extend into the black frame, these glasses are somewhat reminiscent of arrows. This elegant shape adds a touch of femininity to any outfit. Also extremely on-trend at the moment are the cat eye glasses in tortoiseshell.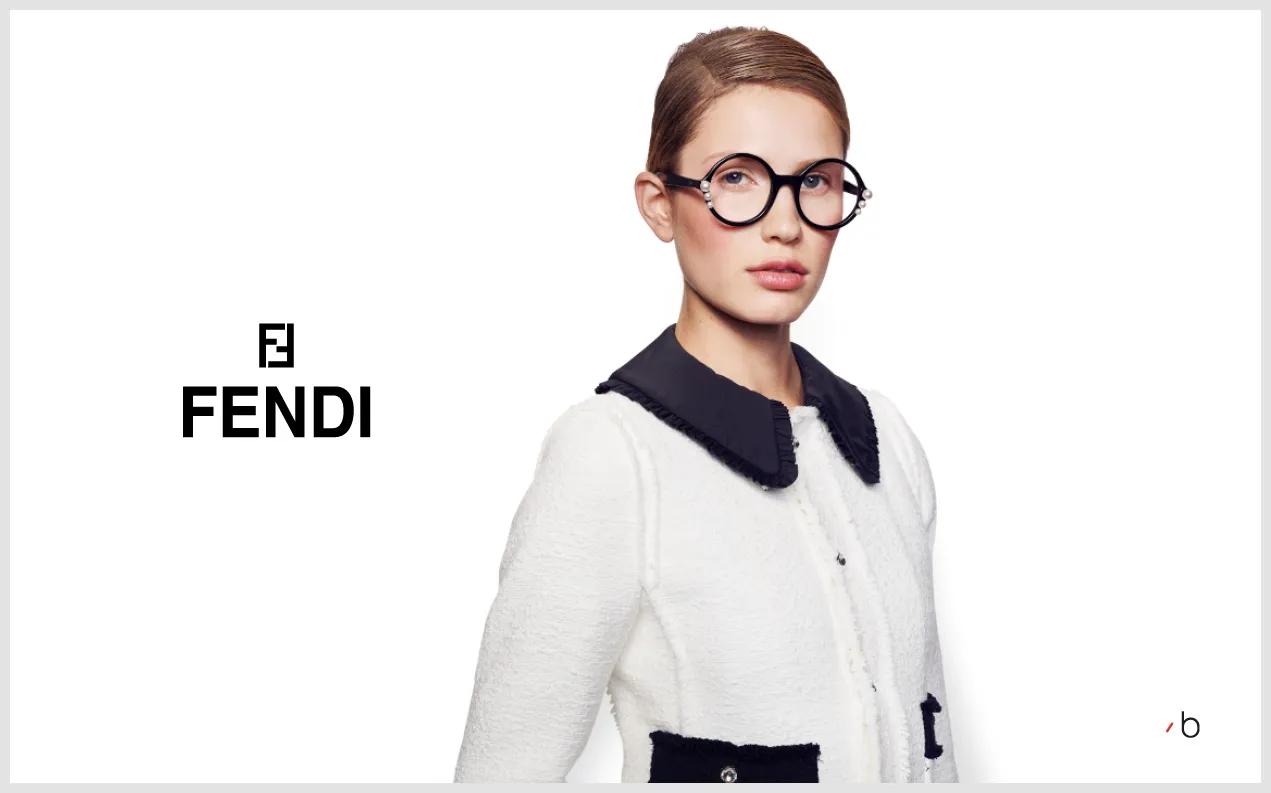 Our Services
If you are wondering where to buy Fendi eyeglasses, then you've come to the right place. In our designer eyewear online shop you will find a wide range of glasses and sunglasses at unbeatable prices, including all the latest models from Fendi's most recent collections. All of our models already have glasses case and cleaning cloth included in the price.
Of course you might be wondering, how do I order prescription lenses online? First of all, you can check out our video tutorials by our head optician, who answers common questions on topics such as choosing the right size frame or adjusting the frame. Then, once you have chosen your favorite pair of glasses, simply click on "Order with prescription" and you will be taken through to the digital opticians order form, which guides you through the process of ordering. You can get normal prescription lenses, blue-light filter lenses and many different lens coatings for your Fendi glasses frame. You can even just order the frame alone, which already come fitted with non-prescription "window" lenses. You are also welcome to contact customer support at any time via phone, email or social media and we will be happy to help.
When you are choosing your perfect pair of eyeglasses, use the filter on the left to narrow down your search. If you have a webcam or a selfie photo, you can also try most of our models on with our 3D Virtual Try-On by clicking on the icon beneath the product image.
Since Fendi is one of our high-end Boutique Brands, you're guaranteed delivery tomorrow if you order by 5pm today. Plus, in addition to free express shipping, we'll throw in an eyeshaker to keep your brand glasses shining. Free returns within 30 days apply to Fendi glasses too - only frames with custom or prescription lenses cannot be reimbursed, except in the case of technical defects. We also offer a range of different payment methods, which make shopping online with us even easier.
Last but not least, don't forget to follow us on social media or check out our blog with articles such as "Which glasses suit me? Look Good, Feel Good!", so you can stay up to date with all the latest eyewear and fashion trends!
About Us
As eyewear specialists for fashion-conscious customers, we offer the highest quality models at absolute bargain prices according to our motto "SEE AND BE SEEN". We also offer discount glasses and products in our in-house Glasses Sale. So let's get going! Let yourself be whisked away to the extraordinary world of Edel-Optics eyewear with just one click.